In May 2016 our whole family participated in touring trip around Austria. It was organized by a cochlear implant producer, MED-EL company (Hela has their implants). Twenty people took part in this five-day trip, along with our MED-EL "guardians" – Kasia and Agnieszka. There were two implanted adults among us, along with five families with implanted kids, including Hela and us 🙂 We've traveled by bus, the journey was quite long, but we've spent our time together very positively, we got to know everybody. It was a good opportunity to to talk with adult people and ask them how it is to hear with implants.
Since it was a touring trip, we've visited such cities as Salzburg, Innsbruck and Wien. Among other places, we've seen the olympic ski-jump Bergisel, visited Svarovski crystal museum in Wattens, attended the Audioversum exhibition (Museum of Hearing, created by MED-EL), went to Vienna Philharmonic Orchestra's concert and visited Prater amusement park.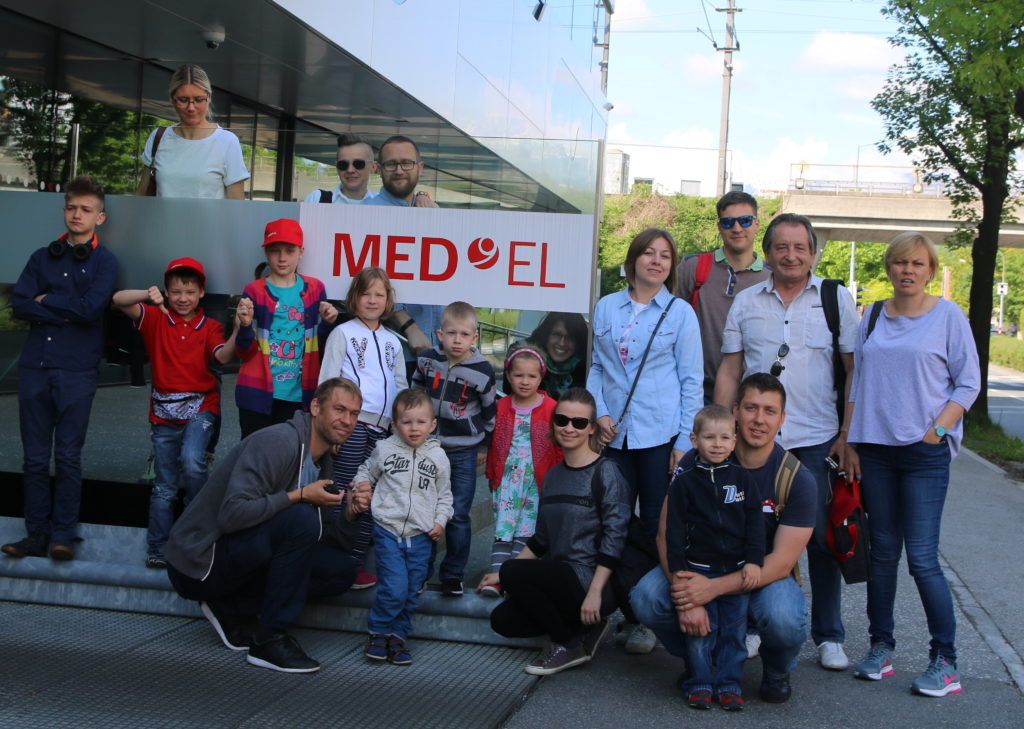 The main event of the trip was a visit in MED-EL's HQ. The head office is located in picturesque Innsbruck, hometown of the company owners – Ingeborg and Erwin Hochmair. It's a complex of few modern, large buildings situated in densely populated district of that tourist city. On the spot we were greeted by nice, but also very professional employees. They split us into two groups and the presentation started. At first we've heard the history about the company's beginnings, its location and the development of subsequent generations of cochlear implants and bone conduction. We could see and hold most of the devices manufactured by the company. The further part of the presentation was devoted to implant production. Our guardian was explaining to us every step of those difficult procedures. After moving to a certain building we've had a chance to see a small portion of a complicated production process with our own eyes. It impressed us a lot. A lot of people were working there, in almost sterile conditions. Everything was looking very professional. It was worth to see it.
Apart from the planned part, this whole trip also had additional aspect – it gave as a chance to get to know each other and to become better acquainted. There was a child with an implant in every family, so it bound us together already. Everyone was friendly and the atmosphere during the trip was very nice. We're grateful to the MED-EL company for letting us participate in this event. We send our best regards. You can see our travel video below.